Video:
Steamed layer cake
Ingredients
- 200g (7 oz) tapioca starch
- 50g (1.76 oz) rice flour
- 1 tsp pandan extract (or 5 fresh pandan leaves)
- 100g (3.5 oz) peeled mung bean
- 300 ml water
- 400ml (14 fl. oz) coconut milk
- 250g (8.8 oz) sugar
- pinch of salt
-Wash mung beans and soak in water for at least 1 hour (or overnight). Cook in a rice cooker. The water level should be as high as the beans. Alternatively, you can steam the beans until soft.
- In a sauce pan over low heat, dissolve sugar and salt in coconut milk and water. Let cool to room temperature.
- Mix tapioca starch, rice flour and the coconut mixture until well-diluted.
- Take out 350ml ( 1 + 1/2 cup) of the above batter and blend with the cooked mung beans in a blender until smooth. We have yellow batter.
- Add pandan extract to the rest of the batter. We get green batter.
- Grease the pan with vegetable oil. Steam 2 laddles of the green batter for a few minutes until slightly set. Then add 2 laddles of the yellow batter. Continue until finish all the batter.
- After the last layer, steam the whole cake for another 15 mins. When you poke the center of the cake with a chopstick and see no batter spilling out, it is done.
- Let cool completely and cut into pieces with a greased knife.
- You can keep the cake in the refridgerator up to 2-3 days. Microwave for 30-45 seconds when serve on the next day. Then let it cool and it is good to eat again.
Bánh da lợn

Nguyên liệu:
- 200gr bột năng
- 50gr bột gạo
- 300 ml nước lọc
- 1 lon nước cốt dừa 400ml
- 100gr đậu xanh không vỏ
- 1 mcf nước tinh chất lá dứa (pandan extract) hoặc 5 lá dứa tươi
- 250 gr đường

Cách làm:
-Lá dứa (lá nếp) rửa sạch, xắt nhỏ, cho vào máy xay với 100ml nước, lọc ra 100ml nước lá dứa. Nếu dùng nước tinh chất lá dứa (pandan extract) thì bỏ qua bước này
- Đậu xanh vo sạch, ngâm nước ít nhất 1 tiếng rồi hấp chín hoặc nấu trong nồi cơm điện
- Hòa tan 250g đường với 1 lon nước cốt dừa 400ml và 300ml nước lọc
-Trộn 200g bột năng, 50g bột gạo với hỗn hợp nước cốt dừa. Thêm chút xíu muối.
- Chia hỗn hợp làm 2 phần: 300ml và 400ml
- Cho nước lá dứa (hoặc tinh chất lá dứa) vào phần hỗn hợp 400ml
- Cho đậu xanh đã nấu chín vào xay với hỗn hợp 300ml bằng máy xay sinh tố.
- Thoa dầu vào khuôn, hấp lần lượt các lớp xanh, vàng xen kẻ. Khi lớp dưới hơi đông lại thì mới đổ lớp mới. Nên đong lượng bột cho các lớp bằng nhau để bánh ra đều đẹp.
- Sau khi đổ lớp cuối cùng, hấp cả cái bánh thêm 15 phút. Khi dùng đũa đâm vào không thấy bột trào lên là chín
- Để nguội hẳn rồi mới dùng dao có thoa chút dầu để cắt bánh

- Bánh có thể bảo quản trong tủ lạnh 2-3 ngày. Khi ăn quay lại trong lò vi sóng 30-45 giây, để nguội là bánh lại mềm ngon như trước

.
Readers' attempts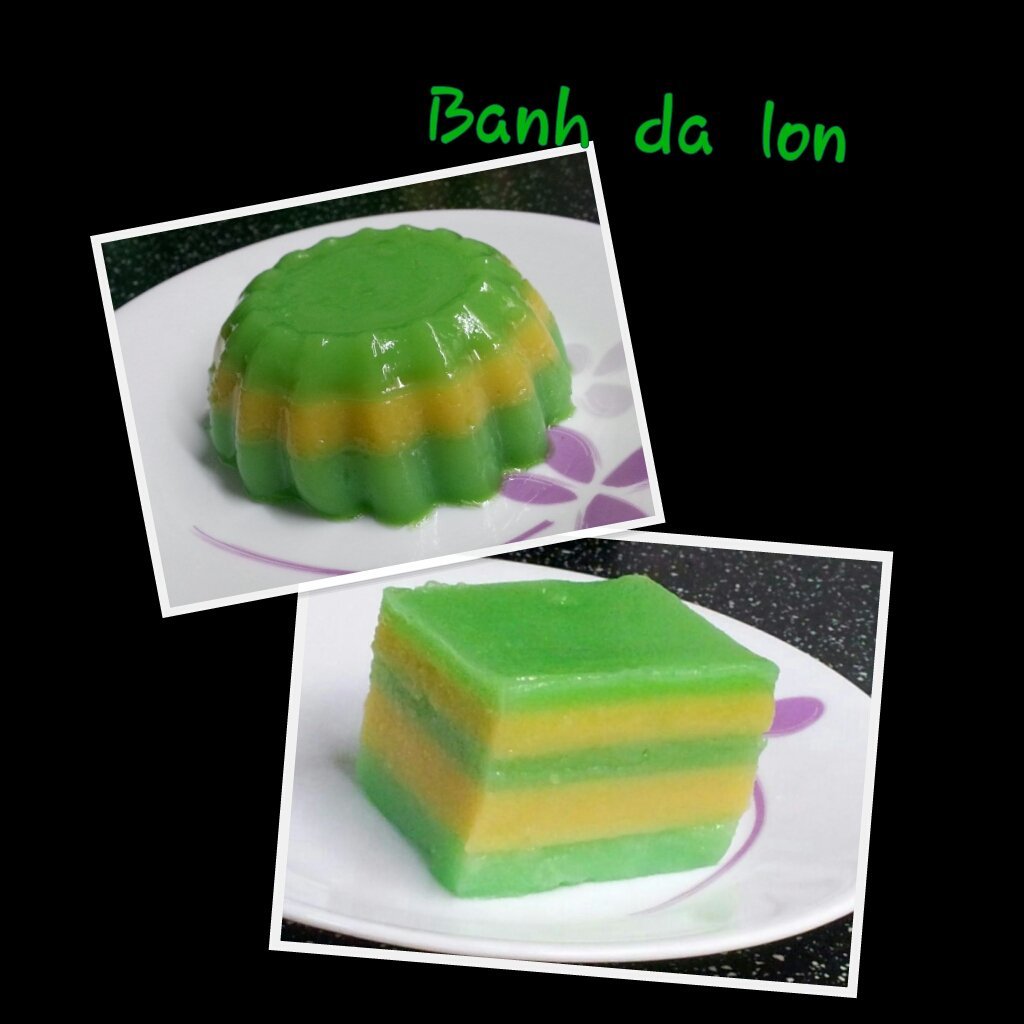 By Peggy